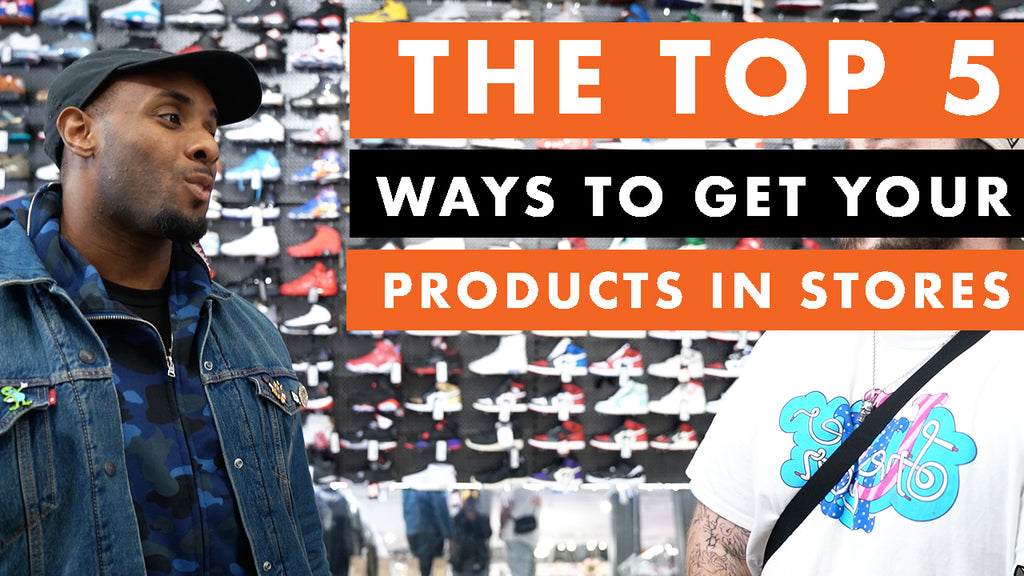 Hey Everyone! It's Anderson Bluu and welcome to my new series entitled the Bluu Print: Your Guide to Building a Brand. In this weeks video I talk about the top 5 ways to get your products into stores. Below is a full breakdown of each method i cover in the video 
Find the buyer:
The first step you need to take in order to get your product in a retail store, is to figure out who your buyer is. One of the most common misconceptions that people make when it comes to getting their items into a store is thinking that the owner or manager is a key decision-maker in that process.
 Every store has a buyer, and the main job of the buyer is to stock the store full of items they feel their customers will want to buy. If you can win this person over, you'll be one step closer to getting items into a store. 
Send an email: 
I'm not going to lie, getting a stranger on the phone to pitch your product might seem like a daunting task. However, an email introducing yourself and what you do could be the perfect icebreaker. The email should contain the following:
1.Who you are
2.Business you work for and represent
3.A catalog of the items (preferably a line sheet)
4.Your contact information5.
5.Why you think your product is the perfect fit for the store
I'm gonna be honest with you, you might not get an email back from some of the stores you contact, but this is a perfect way to get the ball rolling. 
Cold Call: 
This is probably the fastest way to get in touch with a buyer at a store. If you're not sure who the buyer is, the best thing to do is to call to ask. Once you know who the buyer is, introduce yourself and make your pitch. I would recommend sending some samples so they can see what you're selling. Also, set up a meeting so you can show and display items and you intend them to be seen.
Set up a meeting:
If you're able to get a meeting with the buyer to showcase your items, this is the best way to get your products in a store. It's very difficult for a person to make a decision based off only an email, with no context for who you are, or what your brand is about. 
Send samples:
This is a Hail Mary idea, but I've heard from a few people that it works. You could always send a package full of sample items that you think will fit great into their store. Also, including a catalog or a line sheet about what and where they can order your products.
Those are just a few options you can try to get your product in a store. Unfortunately, the same method won't necessarily work for every store, so I suggest mixing it up and trying a little bit of everything. Also, it might not work on the first attempt, or even the second, third, or tenth, but I do know if you stay consistent and keep using these tactics, you will be able to get your items into stores. And that is a big step towards increasing your revenue and growing your company.